×
Issue: 2015-12-10 PHOTO: Mandy Wong
View of Nahanni National Park (from the plane)
×
Issue: 2015-12-10 PHOTO: Mandy Wong
View of Fairy Meadows. East Huey Spire is the large mountain in the foreground on the left
×
Issue: 2015-12-10 PHOTO: Mandy Wong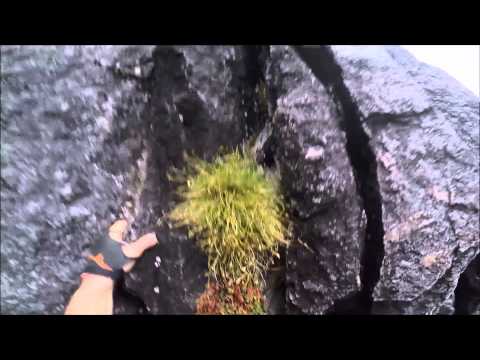 There's a GoPro video I captured on my recent trip to the Cirque of the Unclimbables. In it, I am 200 feet up a rock wall, suspended from a questionable anchor made of various webbing and rusted bolts. Above me is 2,300 feet of vertical granite climbing; below me is snow and scree -- reminders that I am in the alpine.
I am cold, wet, scared and defeated. I recorded this moment in my journal, writing; Well, here I am at the top of pitch two. We are giving up: it's wet and full of moss … I think we underestimated this kind of climbing. I was terrified the entire time. All of my skills went out the window.
This is how our climbing trip in the Nahanni National Park began.
But let's start at the beginning …
How did I get myself into this situation in the first place? It began sometime last winter when, while browsing the Internet, I came upon an image of the 2,500-foot mountain peak called Lotus Flower Tower.
I knew instantly, then and there, that I needed to climb it. Never had I seen such a stunning and mesmerizing rock face. It looked as though it was a completely vertical and clean rock face, for its entire height, similar to El Cap in Yosemite (the biggest difference between them being that one can simply drive into Yosemite).
My partner and I travelled to the 'Cirque' in late July of this summer. We chartered a float plane to fly us in from Finlayson Lake, north of Watson Lake, to Glacier Bay in Nahanni Park in the Northwest Territories.
The Cirque is home to some remarkable rock faces; however, almost everyone who goes there to climb, goes there to climb the Lotus. The Tower is a one-and-a-half-hour boulder hike from Fairy Meadows campground, which sits within the mountain amphitheatre. To access Fairy Meadows from Glacier Lake, however, requires a four-hour hike up an aggressively steep, forested mountainside.
This place gives remote a new meaning.
We booked 12 days for the trip: the first and the last day were devoted solely to the flight and hike, with the middle 10 intended for climbing. At least, that's if the weather held up. The area was infamous for bad weather. Reading trip reports from the lucky few who had gone before us, we heard horror stories where people didn't see the sun for three weeks. Besides terrible weather, the climb itself was known to remain wet -- especially on the bottom three pitches* -- for days on end.
On the first day, our float plane was late by six hours. We arrived at Glacier Lake around 8 p.m. and didn't get to Fairy Meadows until sometime after midnight. By that time it had rained on us for an hour and it was beginning to get dark. Exhausted, we pitched a tent with the least amount of effort possible, and collapsed.