×
Issue: 2016-12-14, PHOTO: Alexander Weber
Panoramic view from Applebee Campground. Left-to-right: Snowpatch Spire, Bugaboo Spire, Crescent Spire, and a small part of Eastpost Spire. Snow-wall used to descend from Kain Route, or access Pigeon Spire, can be seen between Snowpatch and Bugaboo Spire.
I have a terrible feeling about this. I am mentally preparing for the worst: tent bound by rain, wind, hail and all manners of terrible weather - for days on end. My hopes have been dashed before; it will not happen again. We are heading into a range in the Purcell Mountains, near Golden, BC, known as the Bugaboos. It will be our second real alpine adventure. We're not seasoned veterans, but we sure did learn a lot last summer in the Cirque of the Unclimbables (from here on referred to as simple 'the Cirque'; part of the Mackenzie Mountains in the Northwest Territories).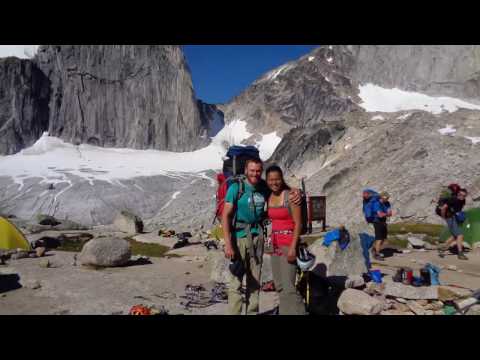 For instance, we learned how to spend a significant amount of time together in a soggy confined space. We also tried to climb spires that were too complex for our skill level; some of these experiences scared the living daylights out of us.
We have more moderate objectives in mind this time around. Although the much sought after Becky-Chouinard route (a 600 meter alpine route in the Bugaboos), similar in commitment and legendary status as the Lotus Flower Tower (a 600 meter alpine route in the Cirque that we failed to climb last summer), tempts us, and looms large in our minds.
The Purcell Mountains (and by extension the Bugaboos) are situated in southeastern BC (and tiny parts of Idaho and Montana), which themselves are a subrange of the Columbia Mountains. These mountains are somewhere between 2,500 and 540 million years old (think pre-complex life).
Issue: 2016-12-14, PHOTO: Alexander Weber
Bugaboo Provincial Park parking lot, showing the hoards of cars covered in protective chicken wire. Anniversary Peak in background.
The Bugaboos were not always known by such a funny name: they were originally named the "Nunataks," which is a Greenlandic Inuit word for 'a peak protruding from ice.' But in the late 1800s, surveyors believed there to be - as Mark Twain once wrote - gold in them thar hills. So, people began to flood the area to search for gold. An ill-fated rush occurred. Nothing was found, and the area became known as a Bugaboo - a dead end.
Renewed interest came in 1910, this time from climbers and mountaineers. Logging in the 1950s and '60s left roads, giving greater access to more climbers. These include Fred Beckey and Yvon Chouinard (the latter of whom founded the Patagonia clothing company). Beckey and Chouinard established classic routes all over the world; routes which international climbers still pine for to this day. The aforementioned Beckey-Chouinard route is named after them.
Issue: 2016-12-14, PHOTO: Alexander Weber
Mandy Wong hauling gear up the grueling hike. Beautifully lush greenery with Hound's Tooth (L) and Snowpatch Spire (R) in background.
It is too bad about the name change, as 'peaks protruding from ice' gives a much better description and visual aid then 'dead end.' The Bugaboos provide climbers with relatively easy access to one of the greatest alpine playgrounds in the world: fantastic granite spires - some as high as 3,400 m (about 1,300 m from summit to the ground) - poking through vast glaciers, displaying sublime cracks that ascend sheer vertical walls of majestic beauty.
Our plan is to spend a little over a week in The Bugs, as we affectionately call them. As opposed to our last time we were in the alpine, which was a fiasco, we decide to keep our minds open to any and every objective, big and small. We are going to listen to the mountains and our guts: just have fun and learn what we can. As we share our plans with friends, our initial party of two quickly snowballs into a party of eight. It seems everyone wants in on the action; new friends and old come from as far as Ontario and the southern US.
After coordinating the best we can, we head out in late July in two waves: five of us arrive early, while the other three are to arrive the next day. Hopes and aspirations are high.
The first mountains to come into view, on the bumpy 45 kilometre dirt drive up to the parking lot, are Anniversary Peak and Hound's Tooth, the latter of which is a rather stunning granite spire, shaped like a canine tooth and surrounded on all sides by glaciated ice. Once in the parking lot, which is full to bursting, we begin safeguarding our cars against porcupine attacks (supposedly they find the rubber brake lines and tires irresistible). There is something truly bizarre about wrapping your car in chicken wire, held down by rocks and pinned to the car with forearm-sized logs of wood, surrounded by a throng of vehicles similarly dressed.
The hike from the parking lot, up to Applebee Campground (where most people pitch their tents), is a deceivingly short five-and-a-half kilometres, as there is almost 1,000 meters of elevation to gain, generously and densely packed at the end. Knowing what we are up against ahead of time, we strived to pack our bags as lightly as possible, dispensing with whatever we could and dehydrating meals well in advance. Even with all this preparation, the hike still feels like a Herculean effort… but what views!
Issue: 2016-12-14, PHOTO: Alexander Weber
Mandy Wong ascending a metal ladder on the hike up to the Bugaboo campground. Bugaboo glacier can be seen spewing its icy vomit between Anniversary Peak on the left and Hound's Tooth on the right.
Due to the geographical layout of the valley we ascend, Anniversary Peak and Hound's Tooth remain in view for most of the way while all other peaks are generally obscured by trees and hills.
The hike takes us three hours, with few breaks, and spits us out onto an incredible plateau of rock, overlooking the valley below on one side, and surrounded by a spectacular cirque of bewildering granite walls on the other. Standing by your tent, starting on your left, all of these peaks are observable: Anniversary Peak, Hound's Tooth, Marmalot Spire, Snowpatch Spire (named for a charming snowpatch that sits perched on its southeast face), Bugaboo Spire, Crescent Spire and Eastpost Spire. The mind reels.
"Hot damn!" I think to myself, and immediately stake out a seven-by-seven foot claim of bare-rock real-estate. The weather is good. Like, really good. Bluebird skies good. A notice board at the campsite includes weather reports posted by the camp rangers. The predicted forecast looks promising for the whole week. I can not - will not - believe my eyes. The mind continues to reel.
I immediately strike a plan to attempt a relatively large, but modest, climb for the very next day. In terms of alpine climbing, there are basically two difficulty grades that are given: one for the length and seriousness of a route, and one for the difficulty of the technical climbing. Whereas the Lotus Flower Tower in The Cirque is a grade V (generally multi-day except for the elite few), we will attempt the North East Ridge of Bugaboo Spire, a grade IV (serious but can be done in a day), and significantly easier technical climbing. While at first not stoked on the prospect of doing a big committing climb the very next day after an arduous hike, I manage to convince two of my friends to attempt it with me early next morning, citing the incredibly and generally unheard of weather window we have been offered.