×
Issue: 2016-04-21, PHOTO: Mandy Wong
Lotus Flower Tower closer up
×
Issue: 2016-04-21, PHOTO: Mandy Wong
The writer looking up at Lotus Flower Tower
×
Issue: 2016-04-21, PHOTO: Mandy Wong
The float plane that took us to Glacier Lake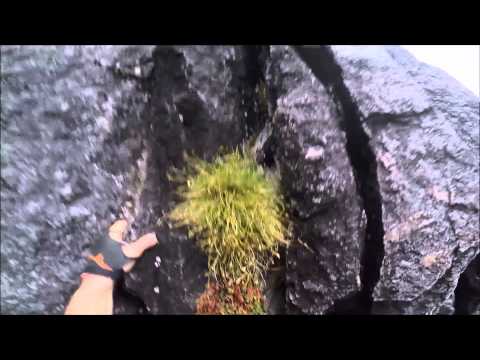 The next morning we woke up with our first clear view of the Cirque proper. This place is nothing but intimidating -- and yet, surreally beautiful. You sort of feel like you've been plopped into the middle of a science-fiction film set, with massive towers surrounding you.
Whoever named this place Fairy Meadows was onto something. Without any trees, the Meadows is mostly streams, boulders, grass, moss and lichen, and meadow flowers. It really does feel like a little heaven on earth. That, and the only real neighbours you have (aside from a few small groups of climbers from all over the world) are marmots, ground squirrels and ptarmigans.
That day we decided to hike to the base of the Tower, to get a sense of what we were getting into. My journal entry for the day reads, The first four pitches of Lotus Flower Tower is wet - soaking wet. But man, is the Tower ever impressive! It's so awesome and intimidating … We might go for it tomorrow if it stays sunny all night and morning.
The next day was one of utter failure. As I said at the beginning of this article, we made it up only two pitches before coming down, scared and disoriented. My journal reads, "All of a sudden I realized how scary, dangerous and hard climbing was. I had no confidence; no skill."
It became apparent to us, at that moment, that we were in way over our heads. Looking back now, I have to wonder what made me think I could take on such a huge endeavour, having no alpine experience and very little in the way of multi-pitch trad climbing. The remoteness added an entirely novel mental barrier that I had never faced before, and which had made my confidence disappear.
The next seven days brought rain, rain and more rain. No amount of singing childish songs about old men snoring, or gyrating our bodies in a sad attempt at appeasing rain gods, did anything to stop it. During this time we mostly pouted, slept, ate and read books. That and we thought a lot about what we were doing there. Given the weather window, were we going to try the Lotus again? Did we have it in us?
Before heading into the Cirque, a friend of mine, who had climbed there earlier that summer, told us about another climb, an easier climb called East Huey Spire. It seemed to make sense to adjust our plans in light of our inexperience and fear.
With three days left of potential climbing, and a break in the clouds, we were determined to climb something. While Easy Huey Spire isn't all that pretty, it was situated smack dab in the middle of the Cirque. A summit on its peak would provide some breathtaking views. We set out early in the morning and hiked to the base of the Spire. This was actually harder than the hike to the Lotus, and longer.