×
Issue: 2016-07-28, PHOTO: Alexander Weber
×
Issue: 2016-07-28, PHOTO: Alexander Weber
×
Issue: 2016-07-28, PHOTO: Mandy Wong
Rappelling down off of East Huey Spire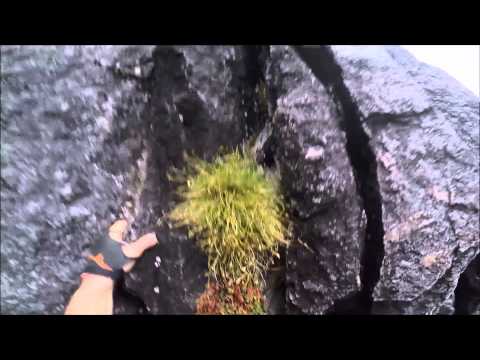 This is part three of a four part series, chronicling Alex and Mandy's attempted ascents at the Cirque of the Unclimbables. We left the pair as they were about to try to climb Easy Huey Spire, after seven days of waiting out the rain. It was a long, tough hike to the base of the spire.
Once at the bottom, we had two options: the suggested route went up a gully, which was also a surging waterfall; or on the left, in the words of the first people to have climbed it, was a "mossy death slab."**
We were off to a bad start. And it didn't get any better. By the time we bailed three pitches from the summit, it had rained on and off twice, with the last rain forcing us to descend. This was our second failure in the Cirque, and I was completely dejected.
The next day brought beautiful weather, and for the first time we witnessed two teams summit the Lotus Flower Tower. This was only the second and third team to have done so all year. We were happy for them but also incredibly jealous of their talent and success. With one last day to go, we decided that night to try for the Lotus Flower, the next morning, come hell or high water.
We woke up at three in the morning, ate breakfast and double-checked our packs. Then we set out for the base of the climb and started climbing at five. Previously my partner had led the first pitch, which scared the daylights out of her, so I was first up.
I knew success would mean ignoring my fear and anxiety. I managed to climb the first pitch with little difficulty. I was completely focused on our goal and was not going to be turned around at the first of 19 climbs. The second pitch was also mine to lead, and this time I managed to make it through the wet sections with a little more finesse than my previous effort, although I still needed to pull on gear in order to move higher.
At this point all I cared about was passing the place where we had bailed at before. I lead the next two sections and felt thrilled that maybe, just maybe, we were going to summit that night. The next three 200-foot pitches moved into a natural 'chimney'. We were surrounded by three rock faces, which were of easier climbing. Here my partner took the lead, which is great because I hate that style of climbing.
Although we were headstrong in our quest to reach the top, we were still climbing conservatively, which made for slow moving.
By the time we exited the chimneys and moved onto the halfway ledge, about 1400 feet up, it was 4:00 pm. We were standing on the first natural break in the rock face and had 1,100 feet of clean vertical-to-overhanging granite above us.