×
Issue: 2016-08-25, PHOTO: Alexander Weber
Halfway Up Lotus Flower Tower, where we decided to end our adventure
×
Issue: 2016-08-25, PHOTO: Alexander Weber
Halfway Up Lotus Flower Tower, where we decided to end our adventure
×
Issue: 2016-08-25, PHOTO: Alexander Weber
Aerial view on the way out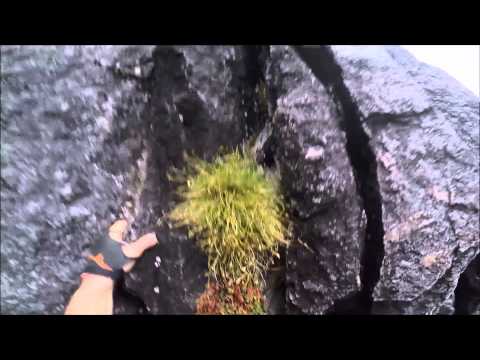 This is part four of a four part series, chronicling Alex and Mandy's attempted ascents at the Cirque of the Unclimbables. We left the pair as they were half-way up an intimidating spire-like peak called Lotus Flower Tower. They had just reached the first natural break in the climb. It was 4:00 pm. They were facing "1100 feet of vertical to over-hanging granite" above them. How does their adventure end? Now, finally, you will find out.
Supposedly those last nine sections should take twice as long as the first 10, which would put us on the summit about 2:00 pm the next day; at which point - having started the climb at 5:00 am the day before - we would have been climbing for 32 hours.
Our Achilles tendons were on fire. We were facing physical and mental fatigue. And with the thought of climbing through the night, rappelling 2,500 feet, then hiking back, packing up, and immediately hiking down the steep forest trail to Glacier Lake, we decided that it was time to quit. We called it right then and there.
We relaxed on the ledge for half an hour, soaking in the view and our accomplishment, totally high on life and this incredibly special place. We rappelled down and headed back to camp that night, feeling jubilant and empty -- simultaneously. The next day brought more rain, which made our descent to Glacier Lake just as painful as the hike up had been on day one. Nothing about this place is easy.
In the end, this trip was one of the most intense, demanding, but completely rewarding experiences of my life. Too often I have set challenges for myself, only to accomplish them several months to a year later. But this trip was special because I went in with a lot of confidence and self-assuredness but was denied success at every turn. And yet I'm delighted with this prospect. Not only because I'm not blind to the beauty and uniqueness of the experiences we had, regardless of success or failure, but also because it is truly through failure that we learn what we are made of and what we can do.
This trip has humbled me and provided insight into how incredibly demanding and difficult a challenge like this is, and it has planted a seed of motivation that I haven't felt for a long, long time. I will return to the Cirque one day and will accomplish my goal. But before then I have a lot more alpine experience to gain.
Anyone up for a trip to the Bugaboos?