×
january19second17.jpg
The cracks were many, but not wide, and caused no problem for skating
×
Windy Arm Hockey Video
Provided by Gabe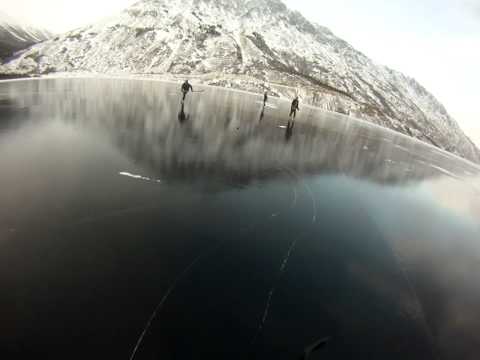 Gabe Rivest's famous hockey-playing video at Windy Arm that went viral on YouTube just before Christmas made us drive out to Kusawa Lake. Thank you, Gabe.
It was our anniversary, and Don asked me what we were going to do to celebrate. He likes to take me out for dinner, but I really don't care for that, and suggested an outing to Kusawa Lake instead.
I figured when the ice was that good at Windy Arm, the chances of it being half decent at Kusawawere pretty good.
The cracks were many, but not wide, and caused no problem for skating PHOTOS: Jozien Keijzer
The day before, I had been out at our little lake, which did not have ice for skating very long this year. I was even scared to be on the ice, which had a lot of overflow underneath the snow.
I crossed the lake nevertheless, but not right through the middle. When the snow can insulate the overflow water so well, will it melt the layer of ice in between the lake water and the overflow?
Ice is always a dangerous thing, especially for me because I am not afraid of going out on it (I did fall through once, which didn't do much to change my trust; I know now that I can fall through, but I also know that I got out quite easily).
Kusawa Lake is a whole different ball game. I would never want to fall through there! It's a very deep lake and it's easy to venture very far from the shoreline.
But don't trust me - I like to say, always make sure for yourself whether or not it is safe enough.
The drive to Kusawa lake was amazing, as always. The road was in pretty good condition, although one never knows about the Kusawa road that way.
There were a few drifts we had to plough through, and some ice. At the end, right at the last campground, a big spruce had fallen across the road.
Going to Kusawa in winter time is always a bit of a gamble. Because of having to take the car, I do not often take the chance. If I could just walk to it, it would be a different matter.
I loved the open water in the river along the road. It was beautiful shades of blue, and the light blue was amazing. I haven't seen the water take on that colour very often. It was not the light blue of glacier water... it was baby blue!
The closer to the lake we got, the less snow there was. It seemed as if the wind had blown it all away. When I want to climb bare rock in the winter, this is the place.
Finally, there was the ice! Who wants to climb rocks when there is ice like that?
From the top of the road, it looked quite spotty - a beautiful sight, glorious patterns, with winding, frozen channels in the ice.
As we climbed towards the lake, the ice created a 20-foot wide reef, with some open water in it, before we reached what we were looking for.
The ice was glorious – smooth and black!
Close to the shore we could see the gravel bottom. We never did see a fish, but we could have. We did see our own reflection and the reflection of the surrounding mountains.
The cracks in the ice seemed to show at least a foot of depth. One has to bore a hole with an ice auger to know the exact thickness.
Putting my skates on, trying to sit on a rift in the reef (what should we call it?) wasn't easy, but soon enough I was flying away over a mirror, looking almost like water. And we did enjoy lying on the smooth surface, which melted slightly when touched with bare skin – almost as if we were swimming.
One car drove up when we were on the lake. Don and I giggled, wondering why they did not come out of the vehicle. Did they see me trying to swim, and were scared of my strange attempts, or did they think the ice was not safe enough?
From the parking lot, it was hard to see how good the skating actually would be. Maybe those people didn't come out because it looked less smooth then they hoped for.
The cracks (they make the ice strong, right?) were many, but not wide, and caused no problem for skating.
Where it got a little tricky was where there were patches of snow on the ice. Where the snow stuck, there was also quite a bit of sand on the ice and we even found some grass. There were signs everywhere of how it must have blown here recently.
It may not be immediately visible, but it is neat to see over a lifetime how geography is always shifting.
I love contemplating that way - linking it to marriage, for example.
After 19 years, things have changed, but we are still standing together.